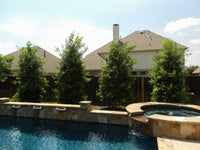 Tree Tots
Welcome to Tree Tots Nursery.  We are glad to have you visit our website and hope you decide to try our outdoor privacy plants.  We strive for top quality, superior service, every time.
Quickly growing into mature trees creating a natural and beautiful privacy screen and/or sound barrier for your outdoor space. Muffle the noise of traffic and or block unwanted observation from passersby.  Enjoy your backyard and patio activities to their fullest with privacy.
Tree Tots specializes in fast growing evergreen trees with fast mail order delivery.